I've now ridden well over 1000 miles on the Lynskey, including 6 200km rides. In my original review I mentioned that I had issues with the bike feeling cramped. It took a few iterations but by moving the saddle up and down and back and forth I have now arrived at a position where that feeling has gone. I have also changed the saddle from the Brooks Swallow to a Brooks Swift. I'm not too sure about this, both saddles have their pluses and minuses – The Swallow is firmer and narrower but can focus the pressure on a very small area; the Swift is wider and more flexible and 'shaped' but has a tendency to chafe at the inside of my thighs. This is still 'a work in progress'.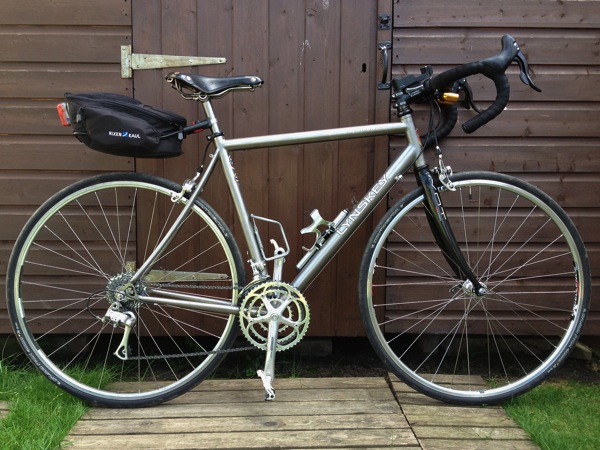 Another change from the original setup is a new front wheel. The classic Campagnolo large flange hub built a very smooth but also very stiff wheel so I decided to invest in a new wheel build. The new wheel was hand built by Alistair Gow of Wheelcraft as all my bicycle wheels are, using a Campagnolo Chorus 32 hole hub (in the now rare silver finish), Ambrosio Excellence rim and Wheelsmith spokes. As usual Al did an excellent job and the new wheel has more compliance and therefore is a little more comfortable than the old one.
I've also lowered the pressure in the tyres slightly from 120psi to 110 psi, again to help with comfort. I'm a big fan of Continental tyres as they seem to deliver the best compromise between cost, longevity, puncture resistance, rolling resistance and comfort. I used to use the 25mm Grand Prix 4 seasons, and would still favour these for winter riding, but have recently switched to the 25mm Grand Prix 4000S. In doing so I've sacrificed some of the puncture protection for a noticeable decrease in rolling resistance but no reduction in comfort. These I think are the ideal long distance riding tyre for the summer, in the winter here in Scotland they won't grip so well in the low temperatures and will probably cut up quite easily.
Other changes are the addition of my Ay-Up front light, holders for my Garmin Hcx GPS and Garmin 500 bike computer and my Rixen & Kaul Contour Max seat post pack.
Most of my opinions about this bike remain the same, it is simply just a joy to ride – fast, comfortable and stable. I've got it geared a bit low – I rode a 200km route last weekend that had 3,500 metres of climbing including grades of 27% and while the lowest gear (23.5 inch) meant I could climb easily, although slowly, it wasn't really necessary. Still it was good to be able to use a range of low gears on the steeper ascents. Otherwise, the 51 tooth outer and 36 tooth middle rings give me what is essentially a compact chainset that I can use for all but the steepest climbs and avoids some front ring changing. One small problem, an annoyance really, is that to date I've been unable to set up the front deraillieur in a way that eliminates chain rub, I find I'm constantly making micro adjustments on the left lever. I currently have a 113mm bottom bracket fitted which gives a less than perfect chain line, however when I tried a 111mm bottom bracket the front deraillieur hit the seat tube and prevented the chain dropping into the inner ring. When I built my daughters Lynskey Sportive I fitted a Shimano 105 chain set and derailieur and that worked perfectly straight away. I can only conclude that the frame was designed for Shimano equipment and Campagnolo is always going to be something of a compromise. Something to bear in mind if you are a Campagnolo fan like me.
So, 1000 miles on and I love this bike. It is, quite simply, the best bike I've ridden for long distance events. Coming up next year is the 1500km Hamburg-Berlin-Koln-Hamburg audax that I rode on the VN Yukon in 2010 and hope to ride again, this time on the Lynskey. That would be a good comparison.
For the complete specification click here and for my initial review click here and for event reports click here