I spent most of my childhood growing up in Derby, the home of Mercian Cycles who are renown for their handbuilt steel bicycle frames. During my teens the bike we all aspired to was a Mercian. So when, in the Spring of 2010, I was offered a 1976 Mercian frame in really good condition, it was original and had never been resprayed, it was too good an opportunity to pass up so it joined the collection. I then needed to find all the original era parts to build it up, this involved spending a lot of time on Ebay and phoning around specialist niche dealers. Eventually I accumulated a full vintage period Campagnolo Super Record groupset, including some superb large flange hubs. Some compromises did have to be made though, in particular it proved really difficult to locate any decent lightweight 27 inch rims for the wheels so I went with 700c and modified the brakes to gain a bit more drop and tyre clearance. However, I am extremely pleased with the result.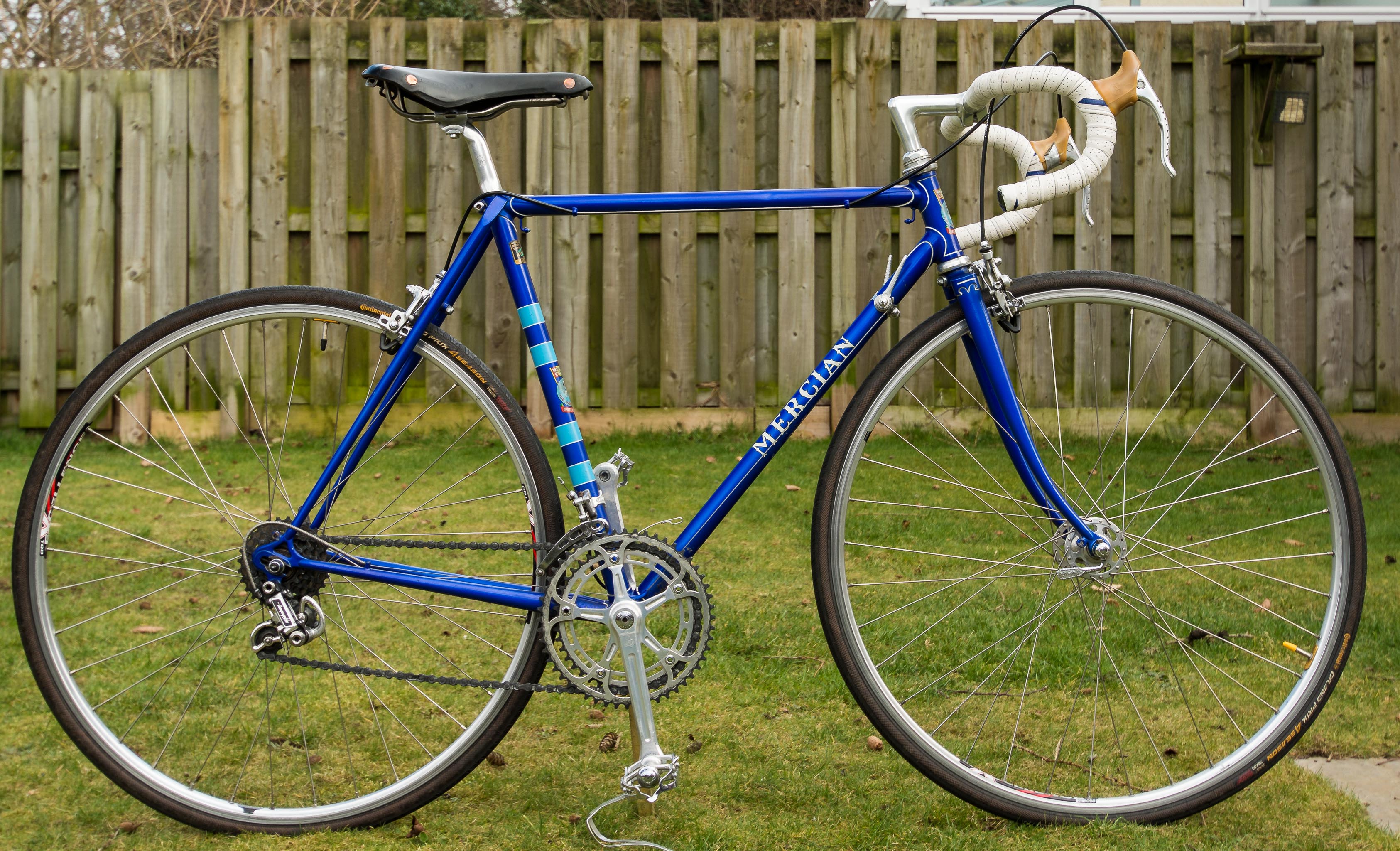 A bit of research on the Mercian website confirmed this as a 1976 King of Mercia touring (they produced a 'touring' version and a 'race' version of this frame).
In October 2010 I took this bike to Italy to take part in the famous historical bike event L'Eroica. A report on this event is here
At about the same time as I was entering L'Eroica my partner said she too would like to take part in this event so I set out to find an historic bike for her. As I had a Mercian this was her preference. The problem was finding one small enough to be ridden by a rider only 5′ 0″ tall. I eventually came upon a pretty little Mercian Olympus race bike that, although not in original condition having been refurbished, was about as small as I was likely to find.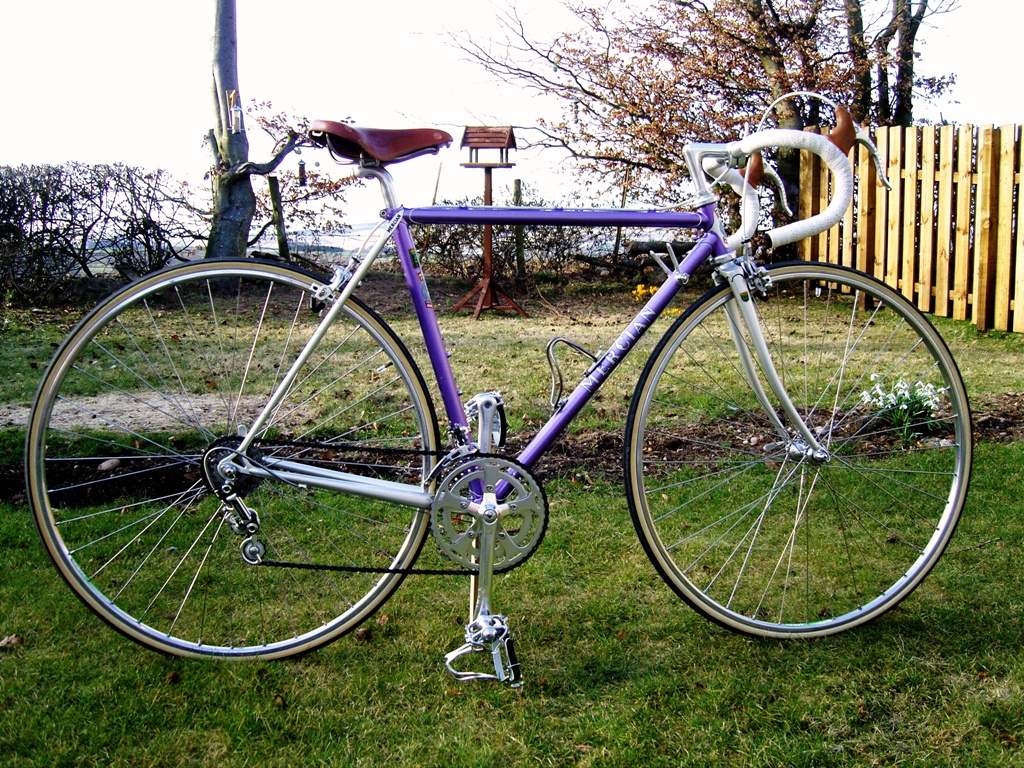 This just about small enough to be manageable but is really just a bit too big for her. It is a very pretty little bike though with some nice features – those delicate pencil stays and a lovely stiff Cenelli investment cast bottom bracket shell. In this photo it has lightweight tubular tyres as well which really suit it. It had something a bit more robust on for L'Eroica though.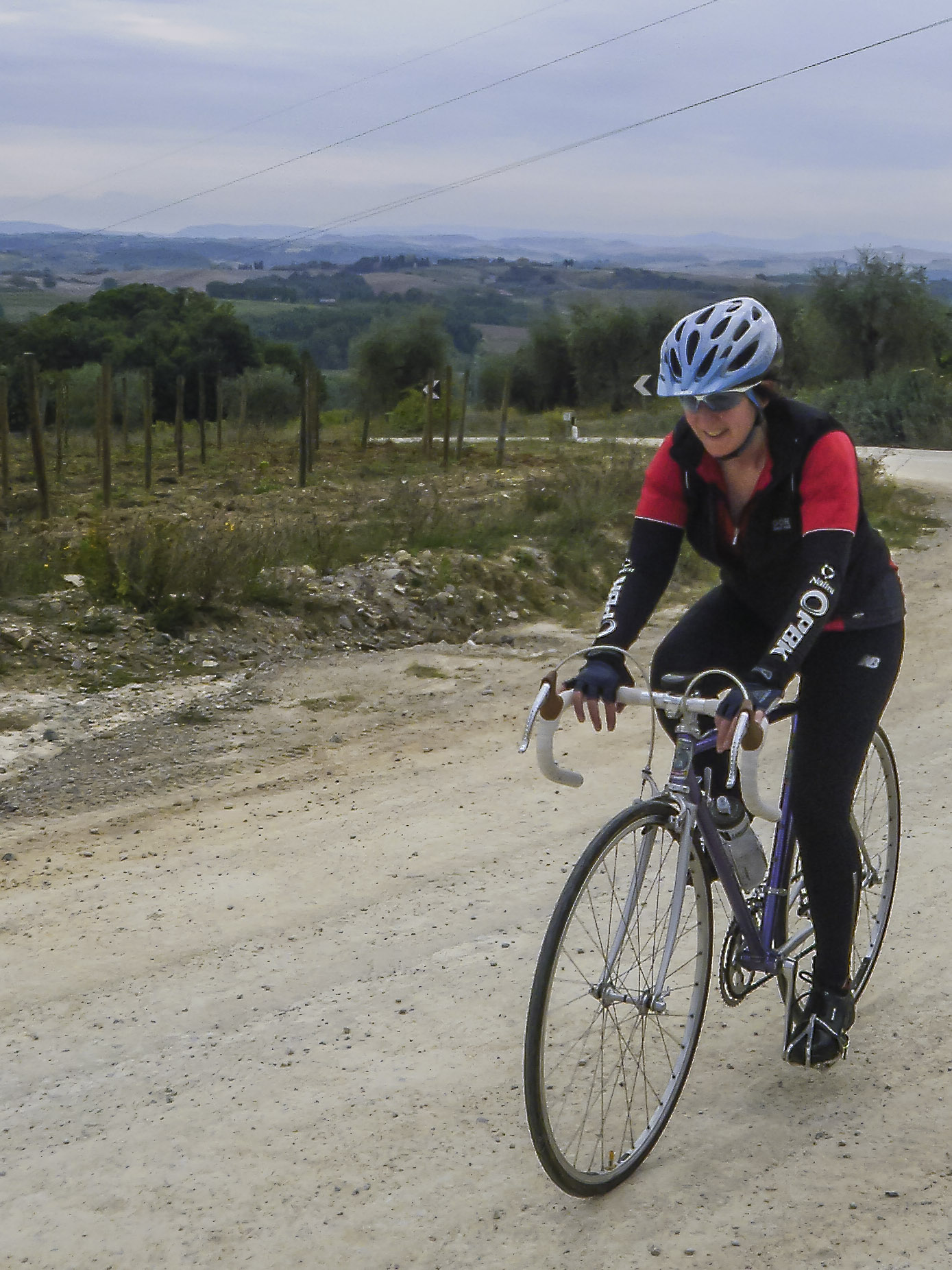 On the Strada Bianca.
In 2018, and approaching 70 years old, I was doing only a little riding so a decision was made to sell most of my bikes. Both these bikes went to new homes where they will continue to be ridden.