THE BIKES
I started off my current phase of riding on a 1991 Marin Eldridge Grade. Seen here with my son on the coast to coast ride in 2004 – we took 2 days to complete this 130 mile ride.
With my son at the start of day 2 of the Coast to Coast ride, May 2004
At the end of 2004 I upgraded to this Cannondale F3000SL, purchased secondhand through Ebay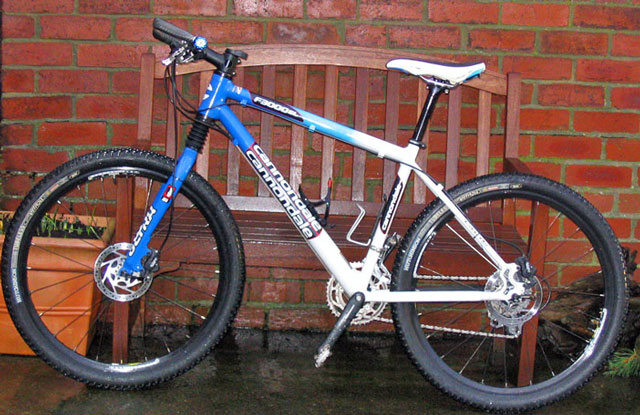 Cannondale F3000SL
Unfortunately I didn't get on too well with this bike as it was too big for me so I passed it on to my son and got this Specialized S-Works, also secondhand through Ebay.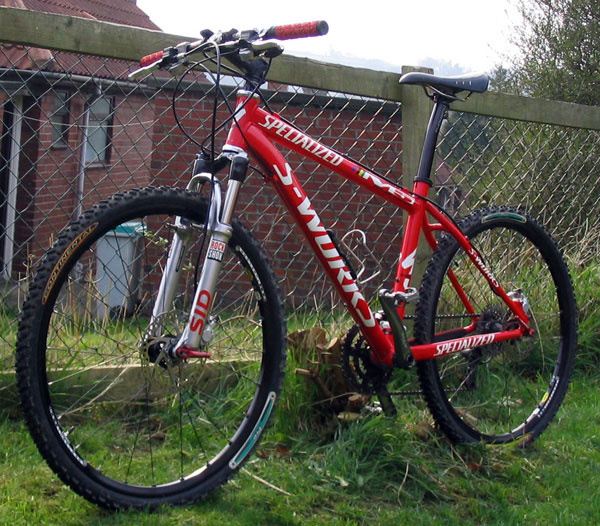 Specialized M5 S-Works
This was upgraded to full XTR drivechain and Rockshox SID World Cup forks. To be honest I struggled with this bike while my skills improved enough to handle its twitchy and nervous ride. I lost a fair bit of skin in a continuous series of tumbles – luckily nothing serious. This is the bike I started competing in Trailquests on in 2005. The bike was further upgraded with handbuilt lightweight wheels, Avid Juicy 7 Carbon brakes and Easton EC90 Carbon handlebars with an FSA XC115 stem. I rode this bike through the 2005 and 2006 seasons.
In 2005 I purchased a secondhand Trek X0 cyclo-cross bike for winter training.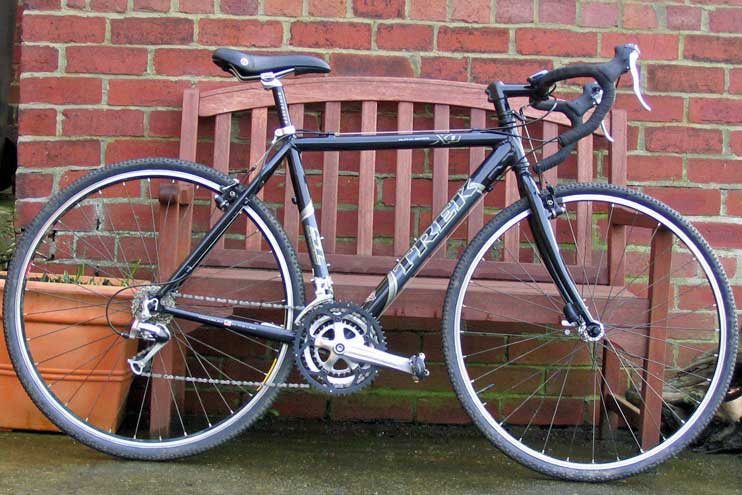 Trek XO
This is still in use on my turbo trainer
In February 2006 I purchased a Litespeed Occoee titanium frame and kitted it out with a new XTR drivechain, Pace RC39 carbon race forks and Crank Brothers Quad Ti pedals. Most of the other parts were moved across from the S-Works. The S-Works was then rebuilt with parts to suit my ex-wife, who still rides it regularly today – mainly as a touring bike.
Litespeed Occoee
Unfortunately I had continual problems with the Pace forks blowing seals and leaking oil. After about 6 months or so I gave up on them and bought a pair of (the then new on the market) 100mm travel Magura Durin race forks. They were an absolute revelation, a superb fork that take all the punishment I can hand out, track accurately and feel like a much bigger fork. The bike then really started to show its potential, adding a shorter stem has improved handling (especially downhill), and it really is a very quick bike, rewarding effort when climbing and inspiring confidence descending. The repaired Pace forks were then put on to the S-Works where they have worked flawlessly – but then again they don't get any serious off-road use. The Litespeed Occoee was sold in 2018.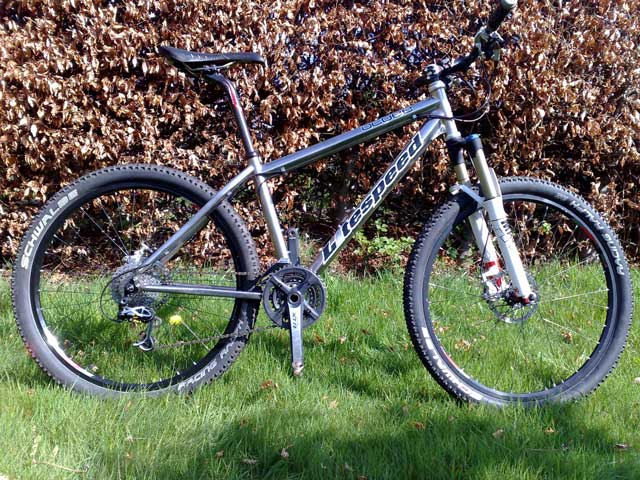 Litespeed Occoee (with Magura forks)
In the summer of 2006 I purchased a road bike – a flat bar Orbea Onix – and started to get into road riding to improve my fitness and stamina.
I took this bike to the Pyrenees in June 2008 and it took me up several of the big cols including the Tourmalet and the Aspin.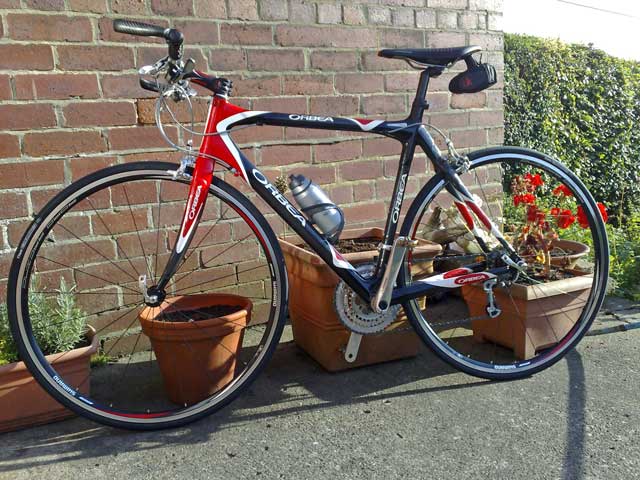 Orbea Onix (flat bars)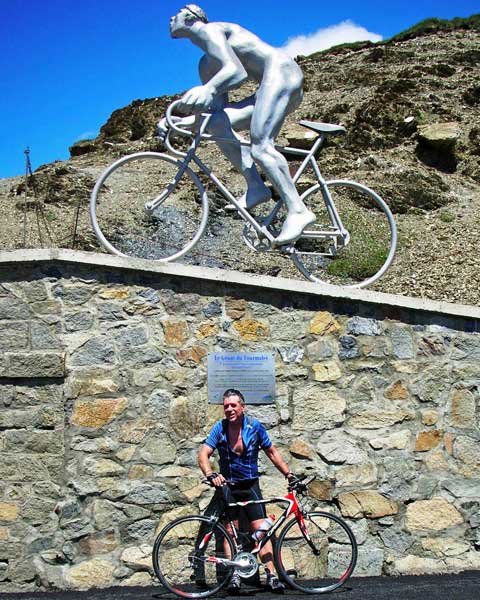 At the summit of the Torumalet June 2008
In October 2007 I added a full suspension mountain bike to the collection as I had started to do more technical trail riding at the purpose built trail centres. I chose the Maverick 7/5 for its simplicity of design and and 'do anything' reputation. With 124mm of travel front and rear this is an excellent all round trail bike and one of the best climbing bikes around. Easily capable of getting me around most of the Black grade trails and limited really only by my (lack of) skills.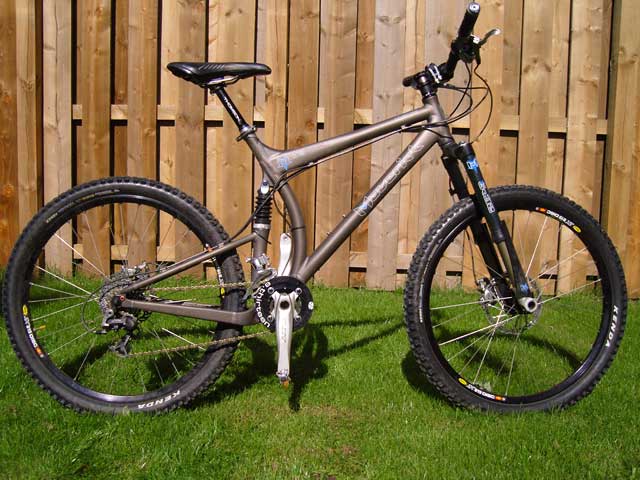 Maverick ML7/5 with bash guard
Having trashed a couple of outer chainrings on rocks I have now replaced the outer ring with a bashguard and I have upgraded the front brake from a 160mm rotor to a 185mm (awesome stopping power that threw me over the bars a few times until I got used to them). I really love this bike and the way it just soaks up rocks and drops. Its only vice is a tendency for the forks to dive which means I really have to get my balance right when landing from jumps. I'll upgrade the forks to something a bit beefier (36mm Fox probably) when these give up which will sort the diving out.
In 2014 I changed the gearing on the Maverick from 3×9 to 1×10. The front changer on this bike had always been very heavy due to friction from cable routing that had to go through some tight bends. The 1×10 system solves this at a stroke. I'm using a 34 tooth front with an 11-36 rear. This bike was sold in 2018.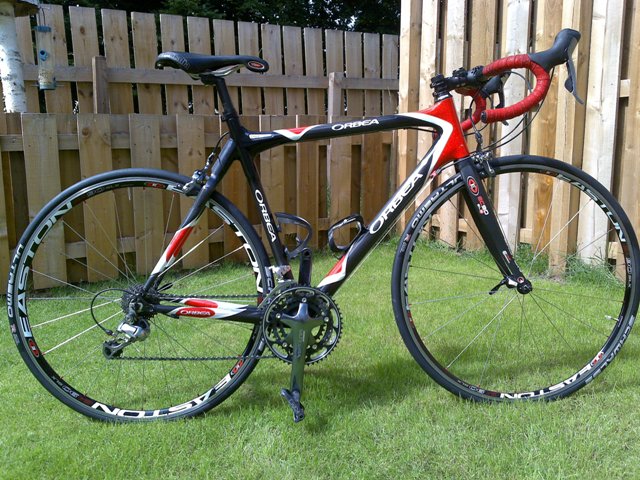 Upgraded Orbea Onix
At the begining of 2009 I started to get much more serious about the road riding and a change in life circumstances meant I had much more time for riding. I was now averaging around 250 miles a week building my stamina to take part in long distance cycling events. The Orbea has been upgraded to deal with this more serious riding – drop bars with 105 changers, a pair of lightweight Easton EA90 wheels and a set of Easton EA90 SLX forks.Latest upgrades are an Ultegra SL chainset and Ultegra SL brakes with Swisstop green blocks. The bike has now done over 25,000km. This bike was sold in 2018.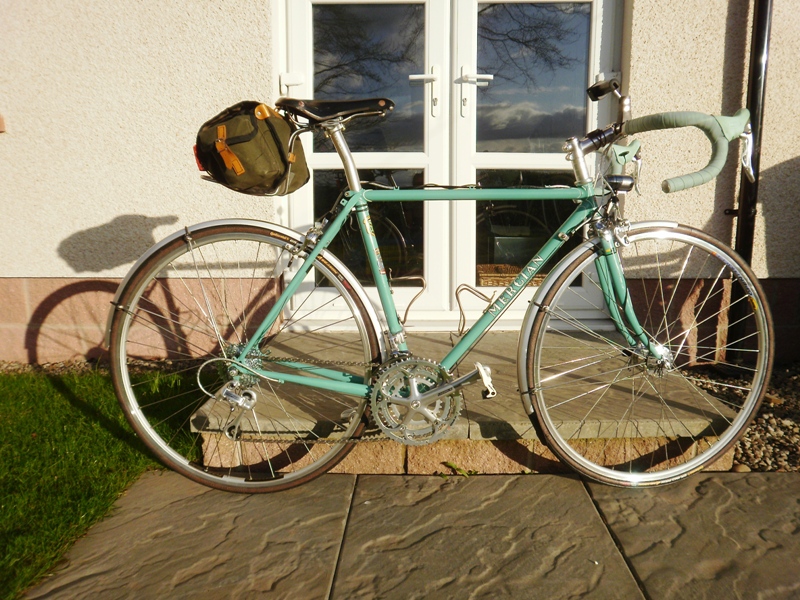 Mercian Audax
In April 2010 I added this hand built steel framed light tourer/audax bike to the stable. I bought this secondhand to provide a comfortable long distance ride. Unfortunately there were a number of problems with the bike – it was just a little too small for me and the frame was twisted. The frame has been sorted out but I use this as a 'testbed' to try out different components and to experiemnt with different gearing.
The Mercian was replaced in July 2010 with a Van Nicholas Yukon and the frame sold.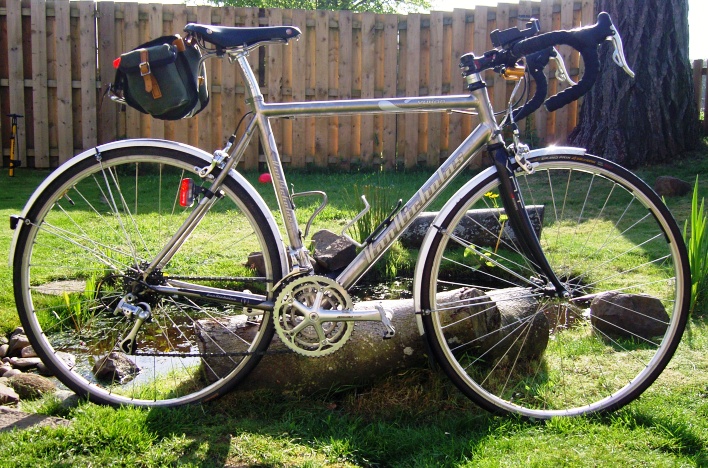 Van Nicholas Yukon
I rode the Van Nicholas throughout 2010, 2011 and 2012 audax seasons completing a 1500km ride, 3 x 1200km rides, a 1000km ride and many 600km, 400km, 300km and 200km rides on it. In 2013, after around 30,000km of riding, the frame cracked and although it was replaced under guarantee I decided to upgrade the frame to a Lynskey Sportive and to sell the Van Nicholas frame. For the story on this see here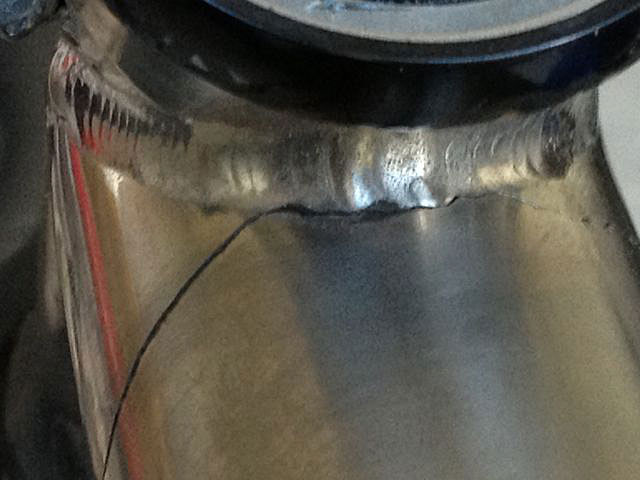 Frame crack on the Yukon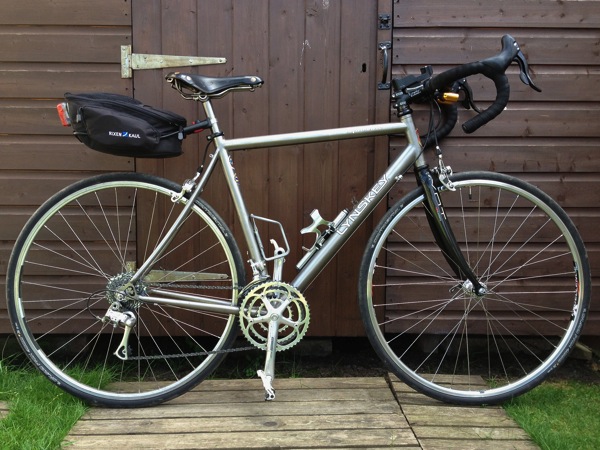 Lynskey Sportive
In addition to the audax bikes and mountain bikes I also have a couple of historic bikes and a tandem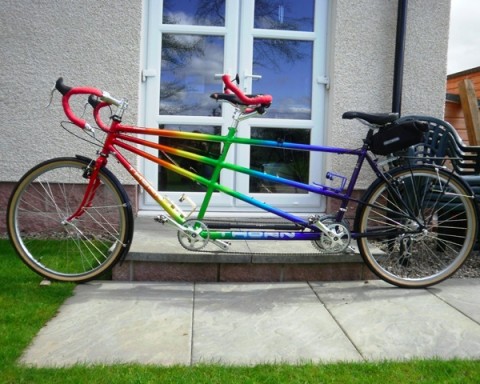 Thorn Vitesse
The tandem is a Thorn Vitesse modified with the addition of a drum drag brake and lower gearing for more general purpose riding.