After 2 and a 1/2 years and some 25,000km of riding the frame on my Van Nicholas Yukon failed. I had been plagued with creaking for a while but had been ignoring it, after a recent 200km ride it had got so bad I did a thorough investigation, this is what I found.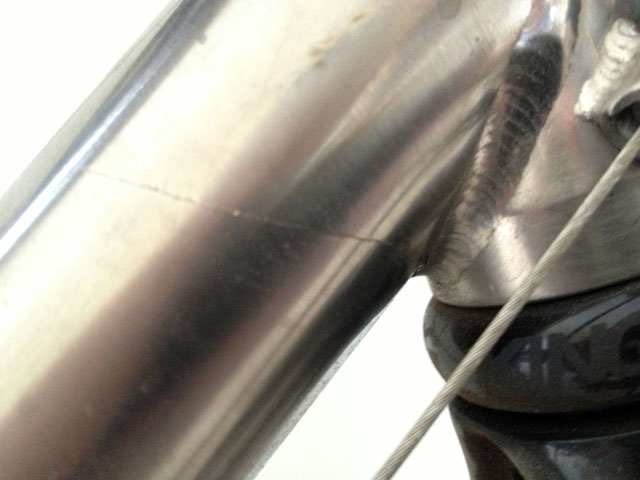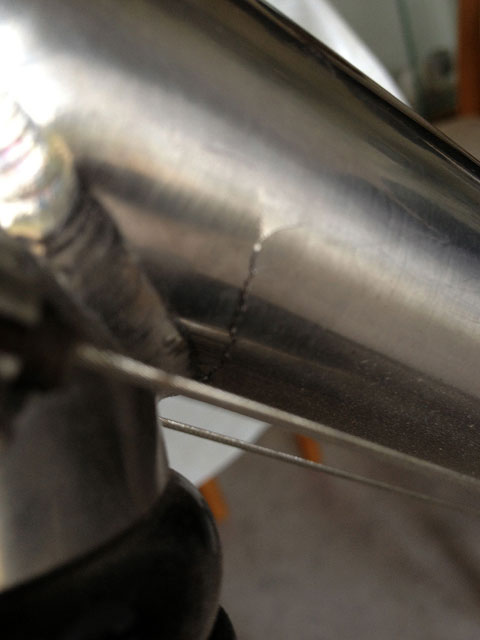 This is the view after I stripped the frame down and turned it over. It appears to start at the weld and propagated round the tube.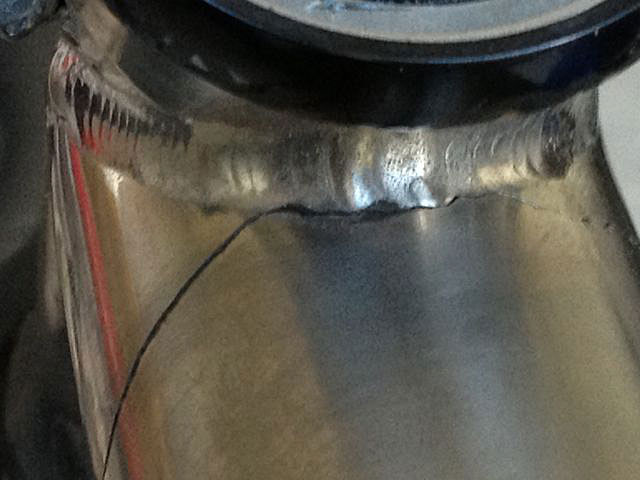 I spoke with the bike shop I had purchased the frame from and they confirmed that it was covered by the guarantee so I took it back. After a phone conversation between the shop and the importer it was agreed that a replacement frame would be provided. That was several weeks ago.
In the meantime my daughter, who has started riding audax events decided she would like a titanium frame bike and we started to do some research on what was currently available. After reading reviews and talking with her local bike shop owner she decided to buy a Lynskey Sportive. She duly purchased this frame and it landed on my doorstep to be built up into a bike. I was really impressed with the engineering – it is a beautifully constructed frame with its clover leaf detail on the rear dropouts and immaculate welds, and a very nice proper enamelled head badge – you don't see too many of those these days. It built up into a very nice bike.
A week after she got it my daughter rode a hilly 200km audax and was full of praise for the way the bike rode and in particular, how comfortable it was. In the meantime, I'm still waiting for my replacement frame and having to ride audax on my carbon frame bike. Now, this bike is quite comfortable but above 300km the relative harshness of the stiff frame starts to take its toll. I therefore made the decision to order myself a Lynskey Sportive frame and sell on the new Yukon frame when it arrives.
I had stripped the Yukon down to the bare frame before returning it to the shop so it was simply a matter of rebuilding the new bike from the parts, except for the front derailleur as the down tube on the Lynskey is 34mm compared to the Yukon's 31mm. I also had a new Campagnolo Super Record Triple chain set that I had bought cheaply but never used. This had 53/42/30 chainrings and I need something a little less aggressive so a bought a set of TA Specialites chainrings in 51/40/26 sizes. I am very pleased with the result.
For my review of the bike click here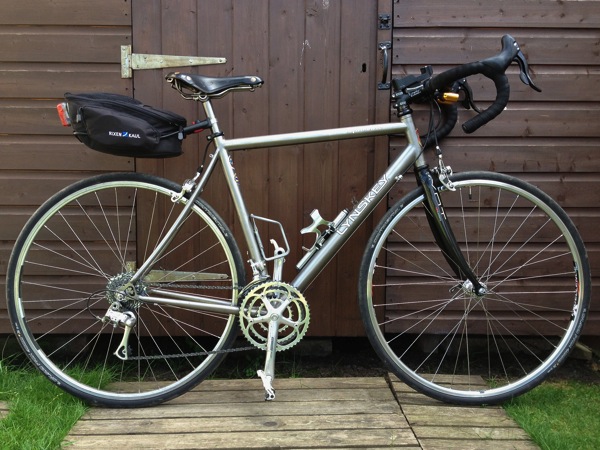 The specification as shown here is:
Lynskey Sportive frame
Van Nicholas carbon forks
Campagnolo Super Record chain set with a TA Specialites 51/40/26 chainring combination
Campagnolo Chorus 113mm bottom bracket
Campagnolo Chorus medium cage rear deraillieur
Campagnolo Comp Triple Front Derailleur
Campagnolo Centaur carbon brake/gear levers
Brooks Ti Swallow saddle
Van Nicholas Ti seat post
Shimano R650 double pivot brakes
Rear wheel is hand built with Campagnolo Chorus hub, Ambrosio Excellence rim and Wheelsmith DB spokes fitted with a 10 speed Campagnolo 13/29 Veloce cassette
Front wheel is hand built with a 1970′s vintage Campagnolo large flange hub, Ambrosio Excellence Rim and Wheelsmith spokes
Tyres are 25mm Continental Grand Prix 4000S
Nitto Noodle handlebars
Pro LT 90mm stem
Look Keo pedals