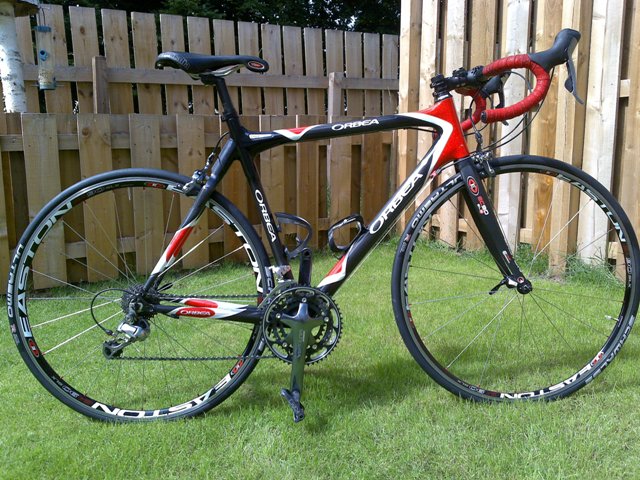 At the begining of 2009 I started to get much more serious about road riding and a change in life circumstances meant I had much more time for riding. My Orbea sports bike with its flat bars was upgraded to deal with this more serious riding – drop bars with Ultegra changers, a pair of lightweight Easton EA90 wheels and a set of Easton EA90 SLX forks. Latest upgrades are an Ultegra SL chainset and Ultegra SL brakes with Swisstop green blocks. The bike has now done over 25,000km.
In 2018, and approaching 70 years old, I was no longer doing much riding so I decided to reduce my bikes to just one – the Lynskey Sportive. This bike was sold and continues to be ridden.
In June 2010 I purchased a Van Nicholas Yukon titanium frame and built it up with Campagnolo Triple drivetrain, Nitto Noodle bars, handbuilt wheels (Campagnolo Chorus hubs and Ambrosio Excellence rims). I also have a Schmidt hub dynamo wheel with Mavic Open Pro rim powering a Supernova E3 Pro lighting system that I use for Audax that involve riding through the night. For shorter night riding and to supplement the dynamo lighting I use a Ay-Up LED rechargeable battery light.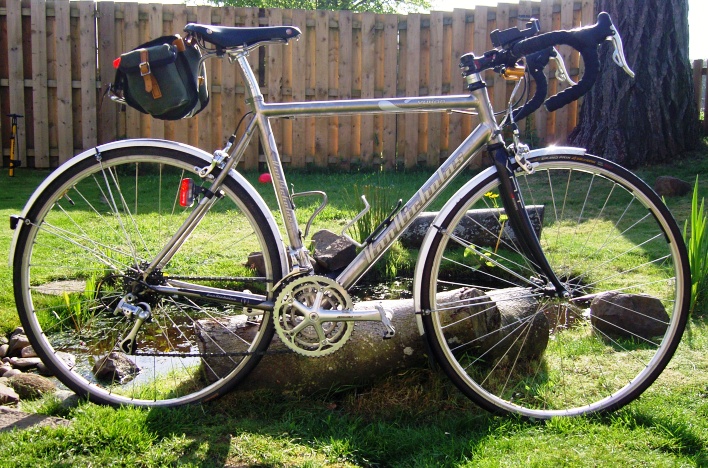 This bike covered some 8000km of audax during 2010, including a number of 600km rides, a 1000km ride and a 1500km ride. Over time it was tweaked and adjusted until it could be ridden with the minimum of discomfort regardless of the distance. In 2011, as well as many shorter audax, it has taken me on a 1200km audax from Morkhoven in Belgium down to the Loire at Cosne s/Loire and back and on the successful completion of the 1200km Paris-Brest-Paris ride.
In April 2013, after covering some 25,000km of audax, I discovered a crack in the frame. While the importer agreed to provide a free of charge replacement, I decided to replace the frame with a more up-to-date design. I decided on a Lynskey Sportive, on the basis of reviews, the experience of building one of these frames up for my daughter and her reports of how it rides. With just a few changes, I build the new frame up using the parts from the Yukon.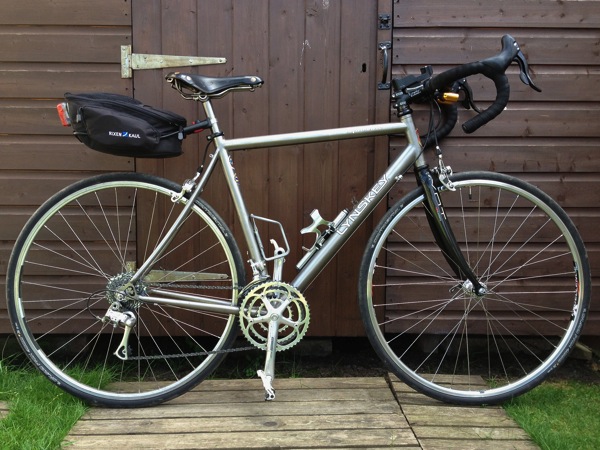 This has produced a very pretty bike. A review can be found on the here.
In the spring of 2010 it was confirmed that Karen would not be able to drive again following a head injury and we would therefore be getting rid of one of our cars, thus freeing up some money. She was feeling pretty down about this and we were looking for some way for her to get out more despite her reduced stamina. One day, whilst browsing Ebay I came upon a very striking tandem that appeared to be the correct size for us. I pointed it out to Karen and she instantly fell in love with it. After making a few inquiries and thinking about it for a while, the decision was made and thus Dotty came into our lives.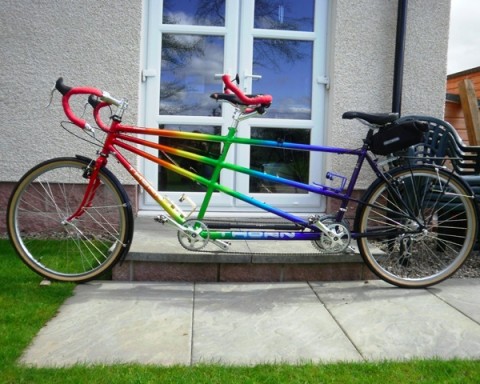 She is a lightweight tandem, handbuilt in Reynolds 753 tubing by Thorn with 531 forks. When we bought her she was set up for fast road riding with quite high gearing and no drag brake. On our first tour around the island of Mull off the west coast of Scotland we found that she needed both lower gearing and a drag brake. I have subsequently made these changes and she is a joy to ride, still quite quick (we average around 23-24kph) over most types of terrain. We perhaps don't ride her as often as we should but when we do get out on her we have a lot of fun.